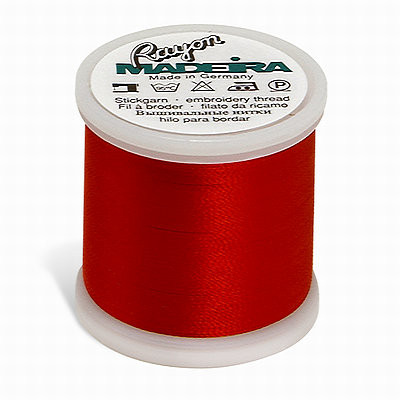 Click To Zoom
Rayon No. 40, 220 yd/200 m
Rayon No. 40, 220 yd/200 m
Madeira Rayon is perfect for embroidery and serger projects because of its strength and color selection.
1087
Light Weathered Blue
2023
Variegated Bright Browns
2016
Variegated Pastel Blues
2017
Variegated Gray Silvers
2025
Variegated Teal Blues
2031
Variegated Bright Greens
2022
Variegated Rust Peaches
2101
Multi Baby Blue / Pink / Mint
2103
Multi Baby Pink / Mint / Blue
2141
Multi Peach / Blue / Rust / Green
2142
Multi Red / Gold / Blue
2147
Multi Lavender / Red/ Yellow / Green
2146
Multi Blue / Green / Yellow
2143
Multi Medium Green / Purple / Gold
2144
Multi Coral / Brown / Teal
2145
Multi Gold / Black / Red
2020
Variegated True Greens
2202
Scandinavian melange
2303
Meadow Saffron Potpourri
Forget-Me-Not Potpourri - 2307
2304
Carline Thistle Potpourri
1160
Medium Weathered Blue
2054
Multi Burgundy / Tan / Black
Find a Retailer
Product Details
Ideal for embroidery and serging

40 Weight

220 yards (200 meters)
Description
The rayon thread 7 out of 10 professionals specify for their demanding commercial machines. Why? For exactly the same reasons you should: high tensile strength and exceptional color fastness.
Made in Germany from 100% viscose filament, Madeira Rayon is a stronger thread from the first inch to the last yard, making it ideal for today's sophisticated computerized sewing and embroidery machines. Each color is dyed in a painstaking process that gives you a consistency and longevity unequaled by the competition.
Perfect for quilting, decorative stitching and embellishment, it can be used on all fabrics from the finest silk to the toughest leather or denim.
A typical embroidery design contains 6,000 stitches. This means each 220 yard/200 m Smart Spool with its 40,000 stitches per spool will produce 40 designs on average. That's plenty of thread for most home embroiderers. In fact, with the Smart Spool size, you can afford to buy thread more often and experiment with new colors and textures.
Madeira's more traditional Smart Spool shape eliminates the "drop off" and tangling problems associated with the elongated spools many other manufacturers use. And, all Madeira Smart Spools come with double locking end caps to keep thread neat and tidy.
Projects Using This Product
Projects Using This Product
Embroidered Family Wall Art
With Letter It! and Monogram It! from Amazing Designs®, it's easy to create an embroidered piece of wall art whether for you or someone else, the many font styles, size options, thread colors; positioning placement choices allow you to combine letters and monograms so that you can customize your work of art.
View all Projects
Recommended Products
Recommended Products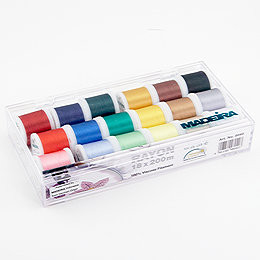 Rayon 18 Spool Gift Box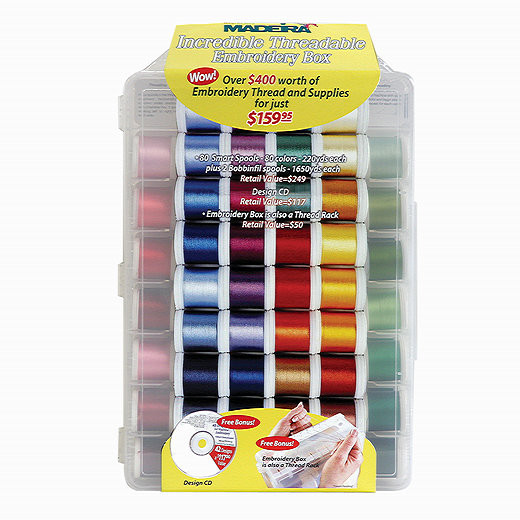 80 Spool Rayon Box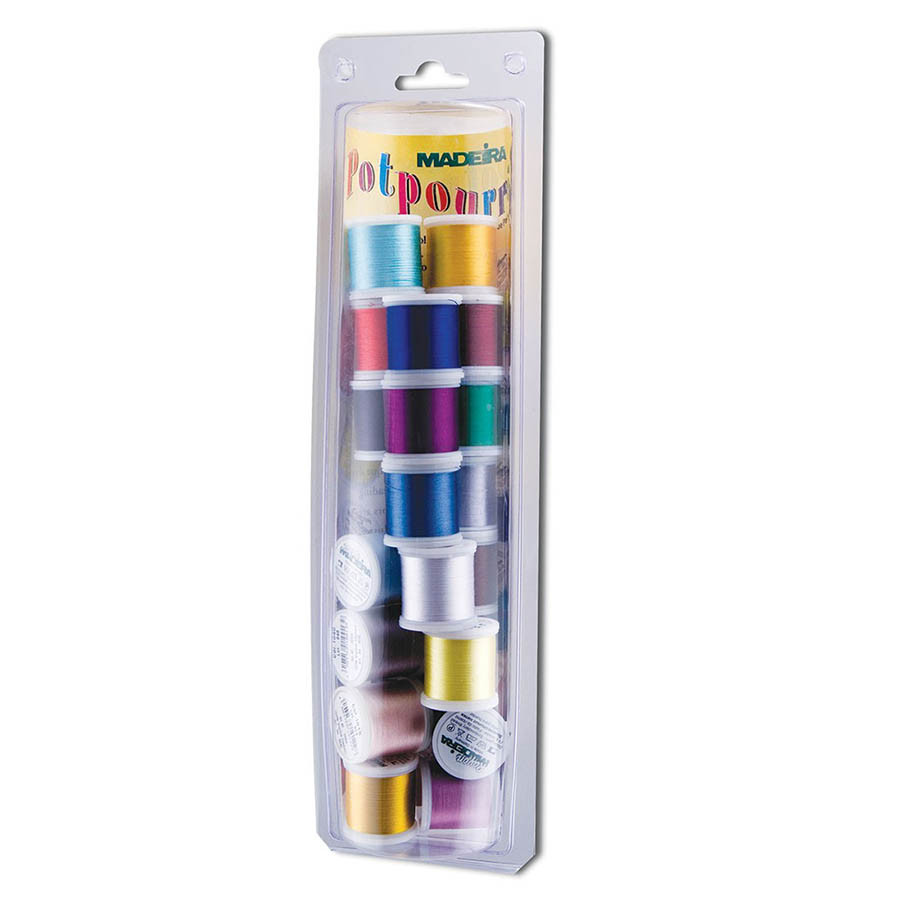 Rayon Potpourri Value Pack
Customer Reviews
Customer Reviews
Read what other sewers are saying about Rayon No. 40, 220 yd/200 m.
Login to leave a Review
This product doesn't have any reviews yet.
Be the first to let us know what you think!