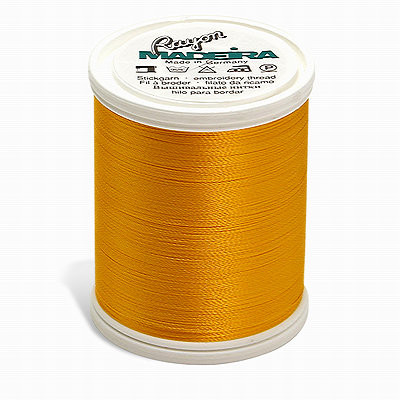 Click To Zoom
Rayon No. 40, 1100 yd/1000 m
Rayon No. 40, 1100 yd/1000 m
Use Madeira Rayon No. 40 1100 yd/1000m for large-scale embroidery or serger projects.
1160
Medium Weathered Blue
1087
Light Weathered Blue
Find a Retailer
Product Details
Ideal for embroidery and serging

40 Weight

1100 yards (1000 meters)
Description
Madeira Rayon No. 40 Thread is the gold standard in embroidery thread. This spool's larger size will produce nearly 200,000 stitches per spool, and about 200 designs. This spool is the perfect size for cottage and small businesses doing multiple designs, as well as for projects using those high-use colors, like Christmas red and Christmas green, white or black.
Madeira's more traditional spool shape eliminates the "drop off" and tangling problems associated with the elongated spools many other manufacturers use. And, all Madeira spools come with double locking end caps to keep thread neat and tidy.
Recommended Products
Recommended Products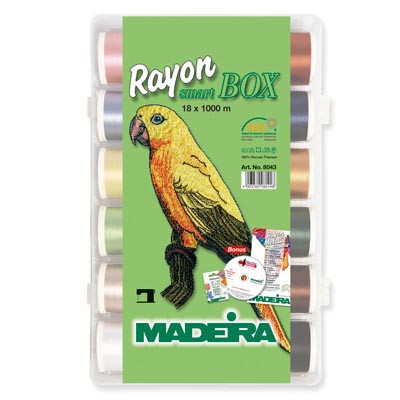 Rayon Smart Box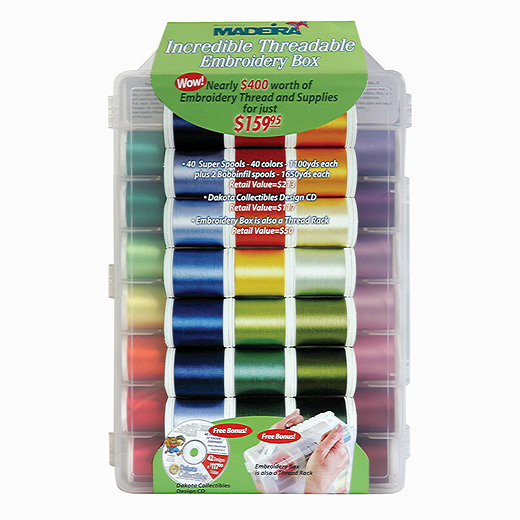 40 Spool Rayon Box
Customer Reviews
Customer Reviews
Read what other sewers are saying about Rayon No. 40, 1100 yd/1000 m.
Login to leave a Review
This product doesn't have any reviews yet.
Be the first to let us know what you think!