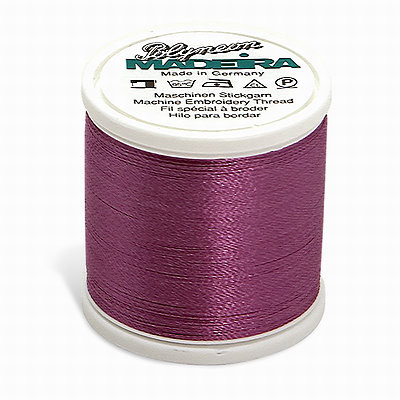 Click To Zoom
Polyneon No. 40, Polyester 440 yd/400 m
Polyneon No. 40, Polyester 440 yd/400 m
Madeira Polyneon thread is a great choice for a pop of color in your quilting, embroidery and serging projects.
Find a Retailer
Product Details
Ideal for serging and embroidery

40 Weight

440 yards (400 meters)
Description
Madeira Polyneon thread is perfect for machine embroidery and decorative quilting. This multi-use thread adds a radiant burst of color to sports and active wear, towels, linens, quilts and children's clothes.
100% colorfast, Polyneon's colors remain brilliant even after repeated exposure to sunlight, chlorine, and washing. The durability and strength of this 2-ply 100% Polyester filament thread allows it to resist abrasion and eliminate breaks during high speed embroidery.
Polyneon colors come our our 440 yd/400 m Perfect Spool, double the thread of our standard Smart Spool. A typical embroidery design contains 6,000 stitches. This means each Perfect Spool with its 80,000 stitches per spool will produce 80 designs on average.
Madeira's more traditional spool shape eliminates the "drop off" and tangling problems associated with the elongated spools many other manufacturers use. And, all Madeira spools come with double locking end caps to keep thread neat and tidy.
Recommended Products
Recommended Products
Customer Reviews
Customer Reviews
Read what other sewers are saying about Polyneon No. 40, Polyester 440 yd/400 m.
Login to leave a Review
This product doesn't have any reviews yet.
Be the first to let us know what you think!