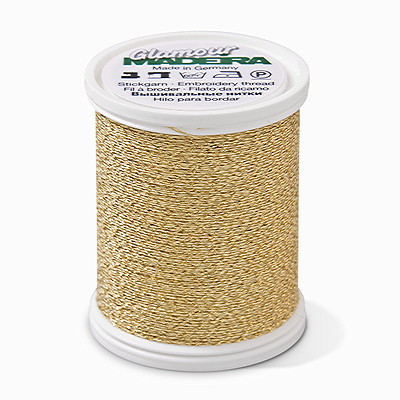 Click To Zoom
Glamour No.12, Metallic 220 yd/200 m
Glamour No.12, Metallic 220 yd/200 m
This strong and heavy weight metallic embroidery thread adds volume while maintaining a soft texture.
Find a Retailer
Product Details
Ideal for embroidery

12 Weight

220 yards (200 meters)
Description
The industry's first 12-wt metallic thread, Madeira Glamour is the strongest and most advanced heavyweight metallic embroidery thread on the market today. It works beautifully on all sewing and embroidery machines and is ideal for embroidery, topstitching, decorative serging, stippling and more.
With a revolutionary process that bonds a shimmery foil wrap to a thread core, Madeira has created metallic thread that is the sturdiest you can buy. This precision German engineering makes Madeira metallics durable enough for home dec, from holiday table runners to accented throw pillows, yet soft enough to add sparkle to your most elegant evening wear.
A typical embroidery design contains 6,000 stitches. This means each 220 yard/200 m Smart Spool with its 40,000 stitches per spool will produce 40 designs on average. That's plenty of thread for most home embroiderers. In fact, with the Smart Spool size, you can afford to buy thread more often and experiment with new colors and textures.
Recommended Products
Recommended Products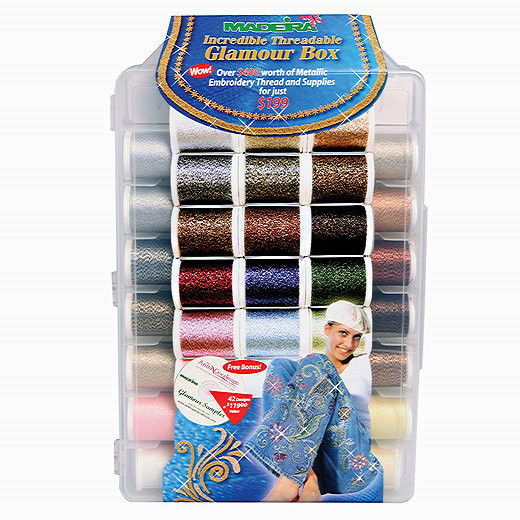 80 Spool Glamour Metallic Box
Customer Reviews
Customer Reviews
Read what other sewers are saying about Glamour No.12, Metallic 220 yd/200 m.
Login to leave a Review
This product doesn't have any reviews yet.
Be the first to let us know what you think!