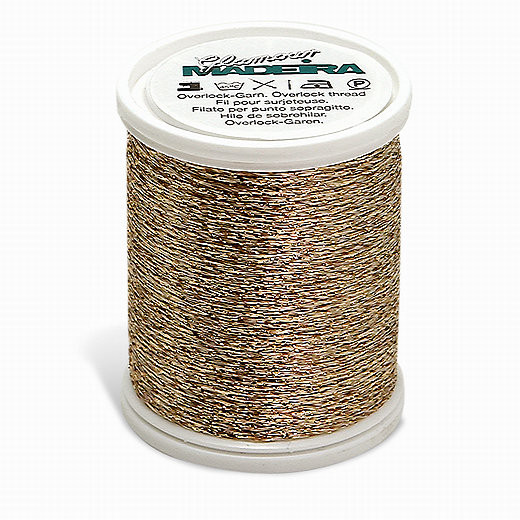 Click To Zoom
Glamour No. 8, Serger Thread, 110 yd/100 m
Glamour No. 8, Serger Thread, 110 yd/100 m
For a unique and embellished look with a serger, use Madeira Glamour No. 8.
2570
Pink / Silver / Black / Blue
2582
Copper / Gold / Black
2500
Green / Copper / Black
2585
Pink / Green / Gold / White
2590
Green / Purple / Copper / Black
2584
Silver / Gold / Black
Find a Retailer
Product Details
Ideal for serging

110 yards (100 meters)
Description
Madeira Glamour No. 8 is a metalized serger thread with professional tensile strength. This thread runs smoothly through the looper and makes embellishing with a serger more fun than ever. Glamour's high quality is consistent through the whole spool and still costs less than lower quality metallic threads. With Glamour, even ordinary seams, hems and edges become extraordinary.
Madeira's more traditional spool shape eliminates the "drop off" and tangling problems associated with the elongated spools many other manufacturers use. And, all Madeira spools come with double locking end caps to keep thread neat and tidy.
Customer Reviews
Customer Reviews
Read what other sewers are saying about Glamour No. 8, Serger Thread, 110 yd/100 m.
Login to leave a Review
This product doesn't have any reviews yet.
Be the first to let us know what you think!