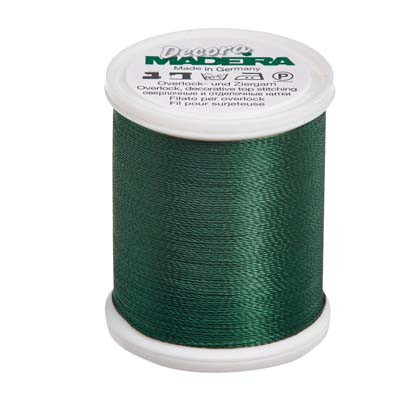 Click To Zoom
Decora No. 12
Decora No. 12
Use Madeira Decora No. 12 to create embellished seams and decorative overlock stitches to elevate your serging to the next level.
2091
Open Fire Variegated
2089
Blue Lagoon Variegated
2092
Autumn Leaf Variegated
Find a Retailer
Product Details
Ideal for serging

30 Weight

330 yards (300 meters)
Description
Madeira Decora No. 12 thread It is a decorative serger thread used to embellish seams and create decorative overlock treatments for apparel or home décor projects. It is also great for quilting! Made of 100% rayon, this thread has a high tensile strength which allows high stitching speeds like those of embroidery machines and sergers. Decora thread has a beautiful high sheen for the perfect stunning stitched embellishments!
Customer Reviews
Customer Reviews
Read what other sewers are saying about Decora No. 12.
Login to leave a Review
This product doesn't have any reviews yet.
Be the first to let us know what you think!