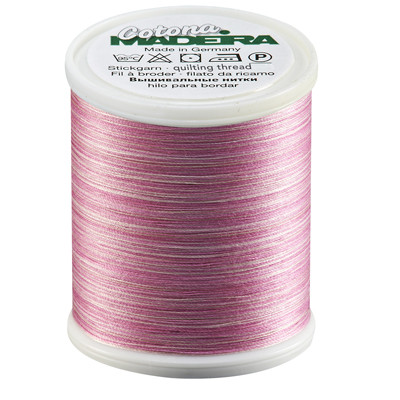 Click To Zoom
Cotona No. 50
Cotona No. 50
Madeira Cotona No. 50 is the right choice for quilting because it produces virtually no lint.
791
Bittersweet Chocolate
Find a Retailer
Product Details
Ideal for quilting and embroidery

50 Weight

1100 yards (1000 meters)
Description
Madeira Cotona No. 50 is the perfect cotton quilting thread for the discerning quilter. Made of extra-long staple, double mercerized Egyptian cotton, Cotona is made in Germany according to the most stringent quality and environmental guidelines. A soft and smooth lubricated thread treated with a special procedure for virtually no lint, Cotona's high tensile strength and consistent sheen make it the ideal cotton quilting thread for machine quilting, applique, piecing and lace.
Recommended Products
Recommended Products
Customer Reviews
Customer Reviews
Read what other sewers are saying about Cotona No. 50.
Login to leave a Review
This product doesn't have any reviews yet.
Be the first to let us know what you think!