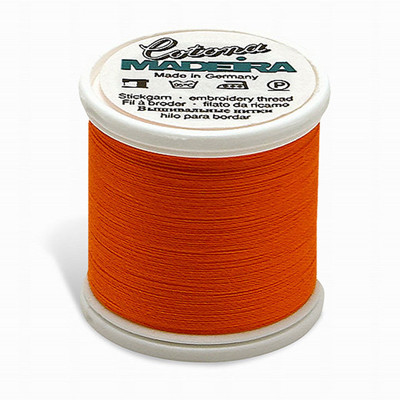 Click To Zoom
Cotona No. 30, 220 yd/200 m
Cotona No. 30, 220 yd/200 m
Madeira Cotona No. 30 is an all-natural thread that adds subtle elegance to projects, and is perfect for decorative top stitching and machine embroidery.
614
Light Chocolate Brown
Find a Retailer
Product Details
Ideal for quilting and embroidery

30 Weight

220 yards (200 meters)
Description
Madeira Cotona No. 30 is the perfect weight with a beautiful matte finish for machine embroidery, appliqué and decorative top stitching. Quilters love the natural fiber and very high tensile strength for piecing and machine quilting. This thread is also ideal for machine cross-stitch, is strong enough for long-arm quilters and performs very well for couching, tassels and fringe.
To make Cotona, Madeira uses 100% pure Egyptian cotton which they double mercerize for outstanding sheen and astounding softness. This all-natural wonder thread adds a subtle elegance to all your work. It is literally the best you can buy.
A typical embroidery design contains 6,000 stitches. This means each 220 yard/200 m Smart Spool with its 40,000 stitches per spool will produce 40 designs on average. That's plenty of thread for most home embroiderers. In fact, with the Smart Spool size, you can afford to buy thread more often and experiment with new colors and textures.
Madeira's more traditional spool shape eliminates the "drop off" and tangling problems associated with the elongated spools many other manufacturers use. And, all Madeira spools come with double locking end caps to keep thread neat and tidy.
Recommended Products
Recommended Products
Customer Reviews
Customer Reviews
Read what other sewers are saying about Cotona No. 30, 220 yd/200 m.
Login to leave a Review
This product doesn't have any reviews yet.
Be the first to let us know what you think!